VOLVO Car Australia managing director Nick Connor has put the company's double-digit year-on-year sales increase down to a strong product portfolio, a "cool" Scandinavian heritage and sustainable dealer network numbers.
As reported, the Swedish car-maker has sold 5616 vehicles so far this year, representing a 44.2 per cent sales increase compared with the first 10 months...
Read more
BMG are very excited to be sponsoring Neville Emond in the Targa High Country this year! Here are some maps
of the overall route and location of the street stage.

BMG are very excited to be sponsoring Neville Emond in the Targa High Country this year! Here are some maps
of the overall route and location of the street stage....
Read more
Sick of airports? Volvo says autonomous 360C is the alternative for intercity travel

6 Sep 2018
VOLVO wants to take on the airline industry with autonomous cars that can whisk passengers between cities by road overnight while they work, relax or sleep in business-class-style lay-flat seats, protected by special safety blankets.
The Swedish company also called for new global standards for fully autonomous car communication with other road users by a system of lights, colours, sounds and movements to replace today's subtle human road-user interaction by eye contact, head turn and hand gestures.
Volvo says such protocols are crucial for the safe operation of autonomous cars, especially in the introduction phase when such vehicles will be mingling in traffic with conventional cars and trucks.
The company made these points when unveiling arguably the most advanced autonomous car concept to date, the all-electric 360c, in Sweden overnight.
While the four-seat car with its huge walk-in door might never be built in its current format, the technologies and design features might well make it into future cars.
The small but spacious pod-like car is designed for multiple purposes such as commuter transport, mobile office, entertainment space and – on long-haul trips – sleeping quarters.
One of the major features of the car is Volvo's attempt to provide easy-to-understand signals to other road users, including drivers, pedestrians and cyclists, of the car's intentions so that they do not get caught by surprise and end up a road accident statistic.
These include small finger-like lights that swing out from the indicators to accentuate the intention to turn in a particular direction and lights than can change colour to convey various moves.
Volvo – which was instrumental in the introduction of major safety advances such as seat belts and autonomous emergency braking in today's cars – wants the vehicle to trigger a global discussion among car-makers and road safety authorities with the ambition of deciding global standards for such protocols.
Volvo Cars chairman Hakan Samuelsson said autonomous cars were the future of mobility and safer road transport.
"It is important to Volvo that we should be in the lead and transforming our business," he said.
Mr Samuelsson said autonomous vehicles' ground-breaking technology would not only make roads safer but "allow people to spend hours in their car doing something else instead of sitting driving".
Volvo says wasted time at airports is a hassle, with travellers ending up spending more time getting on the plane than on the plane in domestic flights.
In Volvo's futuristic vision, a car like the 360c will collect a passenger from their home or office and transport them by road directly to their destination in another city by the next day while they sleep.
The company has even invented a new form of blanket that can protect the passenger while they are laying down, replacing the conventional seatbelt.
Volvo senior vice-president of product strategy Marten Levenstan said domestic air travel looked good when a person bought a ticket but ended up being "not really pleasant at all".
He said domestic air travel was a multi-billion industry that was open to disruption by alternative forms of transport.
"It is a massive business opportunity to find an alternative to this," he said. "The 360 concept is a way to start thinking about airlines. Suddenly a car can compete with domestic air travel."
Mr Levenstan likened the 360c concept to the Wright brothers' first plane, saying it represented a starting point in the development of autonomous travel rather than the finish point.
Volvo says one of the greatest challenges of fully autonomous vehicles was making sure other road users understood what the vehicle was about to do – turning, stopping, accelerating reversing and so on.
"Autonomous technology will be introduced gradually rather than overnight," Volvo said in its press release. "As a result, fully autonomous cars will be introduced in a mixed traffic situation where driver less cars without a human driver will share the road with other road users.
"In such a traffic situation, it will no longer be possible to make eye contact with and learn about another driver's intentions, a central element of today's everyday traffic interaction."
The Volvo 360c addresses this with external sounds, colours, visuals and movements, as well as combinations of these tools, to communicate the vehicle's intentions to other road users.
Volvo Cars Safety Centre vice-president Malin Ekholm said this communication should be a universal standard so all road users could communicate with any autonomous car regardless of brand.
"But it is also important that we do not instruct others what to do next, in order to avoid potential confusion," he said. "Our research shows this is the safest way for fully autonomous cars to communicate with other road users."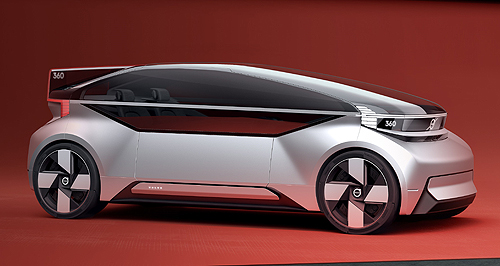 Source: https://www.goauto.com.au
Sick of airports? Volvo says autonomous 360C is the alternative for intercity travel

6 Sep 2018
VOLVO wants to take on the airline industry with autonomous cars that can whisk passengers between cities by road overnight while they work, relax or...
Read more
Luxury-oriented Volvo XC90 Excellence arrives in Australia from $174,200 plus ORCs

2 Aug 2018
VOLVO Car Australia has added a new top-spec variant to its XC90 large SUV range in the form of the T8 Excellence that eschews the traditional five-seat set-up in favour of a more luxurious two-seat second row. Arriving with a pricetag of $174,200 plus on-roads, the Excellence adds a whopping $49,300 over the previous range-topping variant, the T8 R-Design. Its price point puts it in the crosshairs of the likes of the Range Rover Sport and Porsche Cayenne, and also makes it the most expensive Volvo model sold in Australia to date. Volvo Car Australia director of corporate and PR Greg Bosnich told GoAuto the brand sees an opportunity to promote the pinnacle of its product portfolio in Australia with the Excellence, rather than gain extra sales volume. Created with rear passengers in mind, the Excellence adds a number of luxury features to ensure a chauffeur-driven journey is made in utmost comfort. Based on the Inscription trim level, the crowning feature of the Excellence is two electrically adjustable individual rear seats separated by a rear tunnel console, upholstered in perforated Nappa leather with heating, ventilation and massage functions. Extra comfort is provided in the rear by special comfort headrests, increased legroom, footrests, extra noise insulation, folding tray tables, heated and cooled cupholders and the ability to adjust the front passenger seat from the second row. Inside the rear tunnel console lies a storage compartment fitted with two handcrafted Orrefors crystal drinking glasses, and a refrigerator to store the passenger's beverage of choice. Rear climate control is managed through a touchscreen on the tunnel console, while rear passengers also gain two USB connections, one 12V port and one 230/110V power outlet. Other interior specification includes Nubuck textile headliner and roof pillars, leather-clad sun visors and grab handles, unique logos embroidered into the headrests, a luggage partition divider, ionic air cleaner, and an extra mid-range speaker for the Bowers & Wilkins Premium Sound system. From the outside, the Excellence is distinguished by chrome B- and C-pillars, unique logos on the lower door strip and tailgate, and 21-inch rims shod in special low-noise tyres. No mechanical changes have been made over the T8 Inscription's plug-in hybrid powertrain, which teams a 235kW/400Nm turbo-petrol four-cylinder engine to a 60kW/240Nm electric motor and 9.2kWh lithium-ion battery for a combined output of 294kW/640Nm. Through the first half of 2018, Volvo has sold 561 examples of the XC90, down 12.1 per cent over the 638 sales it managed over the same period last year. It trails segment-leading offerings such as the BMW X5 (1487), Range Rover Sport (1420), Audi Q7 (1197), Mercedes-Benz GLE (1107), Lexus RX (1080) and Land Rover Discovery (1026). The Excellence, the only four-seat Volvo in Australia, is on sale now.
Source: http://www.goauto.com.au