VOLVO Car Australia managing director Nick Connor has put the company's double-digit year-on-year sales increase down to a strong product portfolio, a "cool" Scandinavian heritage and sustainable dealer network numbers.
As reported, the Swedish car-maker has sold 5616 vehicles so far this year, representing a 44.2 per cent sales increase compared with the first 10 months of 2017.
The sales growth is largely on the back of huge gains from its SUV range – led by the top-selling XC60 and all-new XC40 – and it has bucked the trend of the overall market which is down by 1.3 per cent year to date, as well as the premium market which has also dropped.
Mr Connor told GoAuto that Volvo had a history of bucking downward sales trends, adding that its market positioning had been a key factor.
"This is a product-led industry," he said. "I also think – and I've seen this over the years before with Volvo – we're slightly counter-cyclical when it comes to sales. And I think there's something about our brand positioning that really helps us.
Left: Volvo Car Australia managing director Nick Connor
"When things slow down a little bit, and people aren't making as much money as they were, there are always some people who are beating the trend. And I think the Volvo brand isn't particularly flash. I think it's sort of slightly understated and we're fine with that.
"And I think, if you're going to buy a new car, it's almost more acceptable to buy a new Volvo than it is to buy other premium brands. And we saw this until 2008-2009 in the UK, when the financial crisis hit and people stopped buying new German premium product and British premium product.
"They still bought our cars. In fact, we had one of our best years in a long time.
"And I think that's partly because it was sort of the acceptable way to spend money, without being not too flashy – functional, but actually a still very high-quality product. So I think our brand helped us there. And I think in this market as well."
Having a point of difference of being a Scandinavian brand has also helped Volvo in Australia, according to Mr Connor.
"I've worked for the company for 23, 24 years, and I say to people that our values are exactly the same as when I joined and probably the same as when the company was formed in 1927.
"The world values have moved towards Volvo, not the other way around. So I think the things we've always stood for, like environmental concern, functionality, safety, family ... and of course we're a Scandinavian brand, and all of a sudden Scandinavian fashion, Scandinavian furniture, Scandinavian ideas ... all of a sudden, there's a part of the zeitgeist, and we've never been there before.
"So yes, I think suddenly Volvo as a brand is cool, Scandinavia is cool, and I think we happen to have, as you currently said, killer products at the same time as well."
Mr Connor said he expected Volvo to end 2018 with 6500 to 7000 sales, exceeding 6000 annual sales in Australia for the first time in the modern era.
"I think it's good, not just for us, but for the dealers," he said. "The dealers have been sort of battling away for quite some time. And it's a tough market.
"And I think it's great for them, that they've been able to deliver that growth. Their throughputs obviously have gone up. We have the same number of dealers that we had a year ago, so we haven't increased the size of the network."
Mr Connor said the company was still aiming for 10,000 annual sales in Australia by 2020, but he added that he was "not obsessed by volume" and would ensure any growth was sustainable.
"I always say 'any fool can sell a car'. And it's only partly true actually these days. But, you've got to make money doing it. And I'm much more interested in us and our dealers selling cars positively than I am about hitting some vanity number that makes us all feel good, but doesn't make us any money.
"I think we need to accept that the brand needs to grow in this market because actually where we were isn't sustainable for them or for us. And it's not even great for consumers either because they want an infrastructure that supports the cars that they bought.
"So I think 10-12,000 units a year over the next few years. We have a very viable business model in Australia. We have enough coverage to support existing and future customers. And dealers can make a sensible return with that sort of throughput.
"If we do 9500 (sales), we haven't failed as far as I'm concerned. That's still a great result if everyone's been able to make some money and keep customers happy at the same time."
Mr Connor said he has not been surprised by the sales success of the XC40 small SUV that was launched in May this year and has quickly become the brand's second best-selling model with 1200 sales so far this year, trailing the XC60 medium SUV on 2367.
"One (reason) is because that segment is booming," he said. " The stats tell the story. It's the fastest growing segment in Australia. It's the fastest growing segment globally. I knew we had a great car. I saw it first probably four years ago, and I knew it was a standout product.
"So, we're not surprised. The reality is that we're sold out of that car. Everywhere, it's not just here.
"It's been a huge success in every market we've launched it in. The challenge here is really to get enough supply. But, I'm happy to live with that because that means that the car is more popular than we have demand. It's good for customers. It's good for resale values. It's good for everybody."
Mr Connor said if a customer ordered an XC40 now, depending on the model grade, it would be delivered in March or April next year.
The XC40 is the sixth best-selling model in the premium small-SUV segment behind the Mercedes-Benz GLA (3387), BMW X1 (2634), Audi Q3 (2062) and Audi Q2 (1569), but it leads the BMW X2 (988), Mini Countryman (866) and Jaguar E-Pace (848).
VOLVO Car Australia managing director Nick Connor has put the company's double-digit year-on-year sales increase down to a strong product portfolio, a "cool" Scandinavian heritage and sustainable dealer network numbers.
As reported, the Swedish car-maker has sold 5616 vehicles so far this year, representing a 44.2 per cent sales increase compared with the first 10 months...
Read more
BMG are very excited to be sponsoring Neville Emond in the Targa High Country this year! Here are some maps
of the overall route and location of the street stage.

BMG are very excited to be sponsoring Neville Emond in the Targa High Country this year! Here are some maps
of the overall route and location of the street stage....
Read more
Sick of airports? Volvo says autonomous 360C is the alternative for intercity travel

6 Sep 2018
VOLVO wants to take on the airline industry with autonomous cars that can whisk passengers between cities by road overnight while they work, relax or sleep in business-class-style lay-flat seats, protected by special safety blankets.
The Swedish company also called for new global standards for fully autonomous car communication with other road users by a system of lights, colours, sounds and movements to replace today's subtle human road-user interaction by eye contact, head turn and hand gestures.
Volvo says such protocols are crucial for the safe operation of autonomous cars, especially in the introduction phase when such vehicles will be mingling in traffic with conventional cars and trucks.
The company made these points when unveiling arguably the most advanced autonomous car concept to date, the all-electric 360c, in Sweden overnight.
While the four-seat car with its huge walk-in door might never be built in its current format, the technologies and design features might well make it into future cars.
The small but spacious pod-like car is designed for multiple purposes such as commuter transport, mobile office, entertainment space and – on long-haul trips – sleeping quarters.
One of the major features of the car is Volvo's attempt to provide easy-to-understand signals to other road users, including drivers, pedestrians and cyclists, of the car's intentions so that they do not get caught by surprise and end up a road accident statistic.
These include small finger-like lights that swing out from the indicators to accentuate the intention to turn in a particular direction and lights than can change colour to convey various moves.
Volvo – which was instrumental in the introduction of major safety advances such as seat belts and autonomous emergency braking in today's cars – wants the vehicle to trigger a global discussion among car-makers and road safety authorities with the ambition of deciding global standards for such protocols.
Volvo Cars chairman Hakan Samuelsson said autonomous cars were the future of mobility and safer road transport.
"It is important to Volvo that we should be in the lead and transforming our business," he said.
Mr Samuelsson said autonomous vehicles' ground-breaking technology would not only make roads safer but "allow people to spend hours in their car doing something else instead of sitting driving".
Volvo says wasted time at airports is a hassle, with travellers ending up spending more time getting on the plane than on the plane in domestic flights.
In Volvo's futuristic vision, a car like the 360c will collect a passenger from their home or office and transport them by road directly to their destination in another city by the next day while they sleep.
The company has even invented a new form of blanket that can protect the passenger while they are laying down, replacing the conventional seatbelt.
Volvo senior vice-president of product strategy Marten Levenstan said domestic air travel looked good when a person bought a ticket but ended up being "not really pleasant at all".
He said domestic air travel was a multi-billion industry that was open to disruption by alternative forms of transport.
"It is a massive business opportunity to find an alternative to this," he said. "The 360 concept is a way to start thinking about airlines. Suddenly a car can compete with domestic air travel."
Mr Levenstan likened the 360c concept to the Wright brothers' first plane, saying it represented a starting point in the development of autonomous travel rather than the finish point.
Volvo says one of the greatest challenges of fully autonomous vehicles was making sure other road users understood what the vehicle was about to do – turning, stopping, accelerating reversing and so on.
"Autonomous technology will be introduced gradually rather than overnight," Volvo said in its press release. "As a result, fully autonomous cars will be introduced in a mixed traffic situation where driver less cars without a human driver will share the road with other road users.
"In such a traffic situation, it will no longer be possible to make eye contact with and learn about another driver's intentions, a central element of today's everyday traffic interaction."
The Volvo 360c addresses this with external sounds, colours, visuals and movements, as well as combinations of these tools, to communicate the vehicle's intentions to other road users.
Volvo Cars Safety Centre vice-president Malin Ekholm said this communication should be a universal standard so all road users could communicate with any autonomous car regardless of brand.
"But it is also important that we do not instruct others what to do next, in order to avoid potential confusion," he said. "Our research shows this is the safest way for fully autonomous cars to communicate with other road users."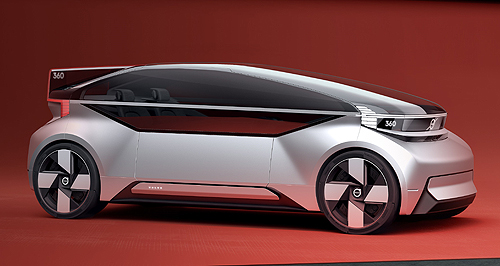 Source: https://www.goauto.com.au
Sick of airports? Volvo says autonomous 360C is the alternative for intercity travel

6 Sep 2018